Family Stories - From Parents of First Step Kids!
Read about the difference First Step makes in the lives of these families...
Carl - Age 3½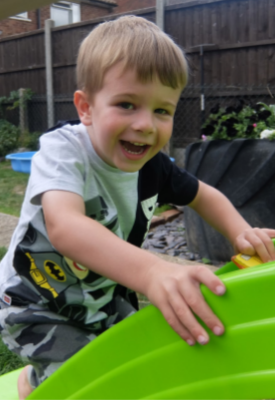 Attended First Step 2017 to date with Tuberous Sclerosis
When Carl first started at First Step he was developing fairly typically. He had a few single words & was quite sensory in that everything went to his mouth.
At our first session at First Step we were met by such a friendly bunch of staff. A few months later Carl had his first seizure in a session at First Step.
The staff were absolutely amazing with Carl & so reassuring to me as well.
Carl can have up to 450 different types of seizures a day. He has had to be placed in a coma twice this year because they couldn't get him out of the seizure.
Carl has tumours in his brain, kidneys & heart.  With all this Carl's development has regressed & he is now non verbal.
The staff at First Step have been amazing with Carl & adapt each session to where he is at that day.
They not only support Carl but us as well.  They have helped us with form filling and are always at the end of a phone.
Their support has even been at Hospital and with Dr's. The work they do is vital to giving Carl a normal happy life.
Knowing that Carl is in such safe hands in a session, you really can't describe that feeling.
Charlie - Age 12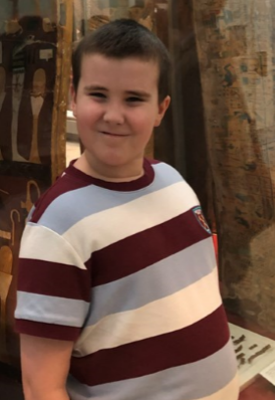 Attended First Step 2009 - 2010 with Autism
The day Charlie started at First Step in 2010, was one of the hardest days of our lives, acknowledging that our child had a disability that would affect him for the rest of his life was extremely painful.
At 3 Charlie had no speech, no eye contact & no level of understanding. He was sensitive to noise & touch and had continual meltdowns.
We had no idea how to communicate with or help our own child. As parents we were lost!
However the minute we walked through the doors of First Step, we entered into a world of compassion, understanding and support.
The expertise & experience of the staff team immediately shone through & put us at ease.
Within weeks as a family we were learning routines & strategies that would help Charlie cope & learn, we even learned Makaton (sign language) which meant we could finally start to communicate with Charlie.
The year we spent at First Step awakened Charlie to the world around him & most definitely gave him the best possible start for his future & as a family it improved our home life considerably, empowering us to take back control & safe in the knowledge we could face the challenges that we would inevitably face.
First Step is without a doubt a lifeline for Families of children with disabilities and special needs.
Charlotte - Age 6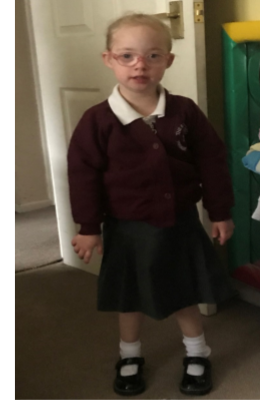 Attended First Step 2013 - 2017 with Down Syndrome
We started at First Step when Charlotte was 6 months old and as a family it is safe to say that we were still reeling from the shock of her condition, diagnosed at birth with no prior warning or indication.
Born at 37 weeks, our beautiful baby girl was whisked away promptly after I gave birth.
The medical staff had concerns something wasn't quite right and after 5 days of Great Ormond Street Hospital tests they confirmed that Charlotte had Down Syndrome.
At first we used to visit the sensory room, then we joined the family sessions and met with other parents before Charlotte started pre-school.
First Step helped her learn and grow and they supported me through my own struggles in adapting to her disabilities, enabling me to realise how lucky we were to have her in our lives.
Charlotte would not be the happy 6 year old girl she is today without the support of First Step.
The staff at First Step welcomed us with open arms and for the first time we didn't feel so alone.
Cody - Age 5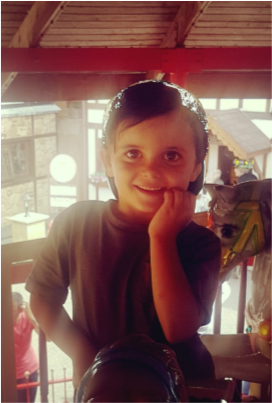 Attended First Step 2015 - 2017 with Autism
Cody has a twin sister and 2 older brothers aged 11 and 9.
I started noticing developmental differences between Cody and his sister from about the age of 12 months.
I had heard about First Step from a friend who had received help for her child so I visited First Step's centre to talk about Cody.
Their assessment of him and the help he received from such an early age was invaluable.
We truly believe the early intervention was key to where we are today with Cody.
Without it he would not have made the required progress to filter into mainstream school.
Not only have First Step helped Cody they have been so supportive to us as a family.
We cannot thank all the staff at First Step enough.
Ellis - Age 6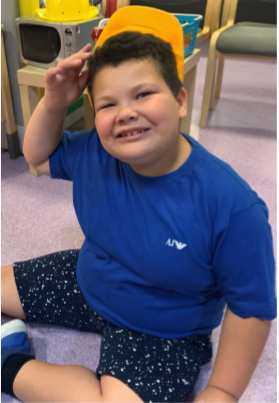 Attended First Step 2015 - 2018 Rare Genetic Disorder
As a family we were desperate for help as we had faced constant closed doors.
Everything changed when we found First Step using a google search.
The very first contact with First Step lifted a large grey cloud above our heads. We were offered so much support, encouragement and a voice; we were finally heard!
First Step give us strength, supporting us with getting the correct professionals and educational provisions to help.
They even provided open arms if ever a hug was needed, which it often was!
First Step have become a very solid rock in my family.
They offer continued much needed support, encouragement and advice whenever called upon, we've become family.
First Step will always continue to go above and beyond in helping special needs families, they are the foundation that we needed.
No hurdle will be jumped alone ever thanks to First Step. Thank you!
Finlay- Age 6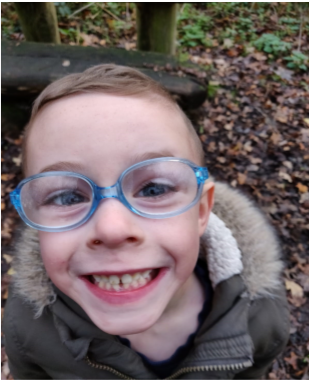 Attended First Step 2013 - 2016 Williams Syndrome
Finlay was 3 months old when he was diagnosed with a rare genetic disorder that I'd never heard of.
After googling the condition, I became extremely anxious for my son's future.
No one could tell me what his life was going to be like or how we as a family were going to cope.
At 6 months old, Finlay had life-saving open heart surgery at Great Ormond Street due to the excessive narrowing of his arteries.
It was a terrifying time for all of us, but it was First Step who gave me the hope & support I needed to get through it.
The first time he learned his name was during a group music therapy session & I'd never known emotion like it!
Since then, he became a regular member of the pre-school setting and I quickly found my home from home.
I met other parents who were going through similar & a support network that helped me through the darkest days.
Finlay's zest for life & ability to make everyone laugh means I'm sure he won't ever be forgotten.
I owe First Step so much.
They gave me hope, they gave me support, they gave Finlay a place to be himself & they gave us as a family a group of lifelong friends.
Thank you, First Step for all that you do for children like Finlay!
Harley - Age 2½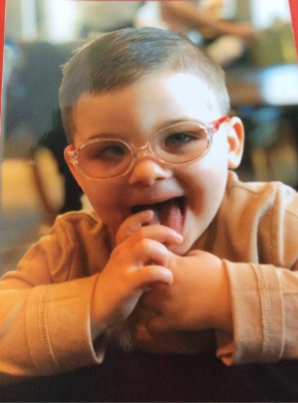 Attended First Step 2017 to date Nystagmus
We found out early on that Harley has Nystagmus (a visual impairment).
It was difficult times not knowing how much he could see or even if he could see at all.
We was referred to First Step by our local CAD team.
The first day here was daunting but we were welcomed with such warmth you could feel straightaway the staff were compassionate and dedicated to every child and their families too.
Harley has come on in leaps and bounds and has started to interact well with staff making positive attachments.
The Parents' Room is a wonderful non-judgmental friendly place where you can relax, let off steam, laugh, cry and sympathise with each other, offer advice and understanding.
There is always plenty of tea, coffee and most importantly, tissues.
We are so appreciative that First Step exists.
Imogen- Age 5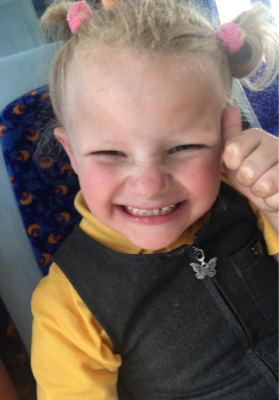 Attended First Step 2018 – 2019 Profoundly Deaf with Bilateral Cochlear Implants
We first came to First Step when Imogen was 4. At this point Imogen had been through 2 schools and they couldn't provide what she needed or couldn't cope with her needs.
Imogen is profoundly deaf with bilateral cochlear implants, non-verbal, and also has sensory processing disorder and global developmental delay, with ongoing assessments. We came to First Step and it changed not only our lives but Imogen's too.
Imogen was with First Step for a year and the progress Imogen made in that time was incredible.
The staff cared about her, you could see that just in their faces.
When she arrived, they gave Imogen a sense of belonging.
For us as a whole family, Imogen's social skills progressed incredibly while there, enabling her to show her emotions.
First Step helped us with getting Imogen into a school that could cope with her additional needs and gave us help and guidance to all the key questions to ask to make sure everything was in place for her, Imogen still has her struggles, but Imogen's life and ours has changed drastically and it's all thanks to the First Step team.
Without First Step I don't know where we would be now, and for that we are eternally grateful
Joseph – Age 6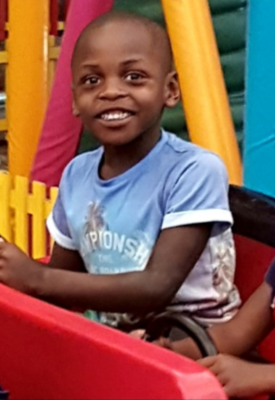 Attended First Step 2016 -17 Autism and ADHD
When Joseph started at First Step he had no communication, was very inattentive & exhibited some challenging behaviour.
As our first child it was fair to say that we were very concerned about his development & needed guidance as to the best way to support him.
Straight away the skilled Early Years staff were able to identify Joseph's specific needs & enrolled him onto PACC sessions, classes which promotes children's attention, concentration & communication.
Within two months of attending PACC there was a notable difference in him.
He was focused, more engaging with others & using methods like Makaton to communicate his needs, which reduced his frustration & challenging behaviour.
First Step was also extremely beneficial for us as his parents as it provided us with the confidence we needed to support our son, including practical & emotional support, especially when seeking diagnosis & introducing us to a huge support network of other families experiencing the same issues.
There is no doubt that First Step has been fundamental in Joseph's progression, providing him with the skills & confidence he needs for his future.
We will forever be grateful for the part they played in his early years.
Jude - Age 6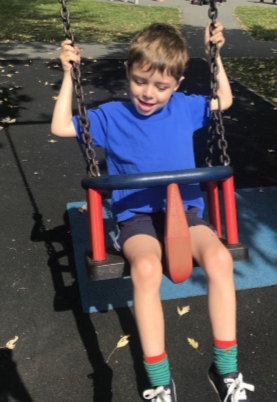 Attended First Step 2017 - 2019
Having been aware of First step for many years; We referred Jude in 2017, at the time he was in a day nursery but we felt he may need specialist input as well.
Jude becomes extremely anxious, he prefers adult company to his peers, he struggles to form friendships and prefers to be on his own.
We immediately felt supported by the staff, they recognised Jude's individual needs & discussed with us at length the best ways they felt they could help him.
Jude loved his time at First Step; he would become excited as we pulled into the car park, he would smile and enjoyed the structure of his sessions.
We never worried about his safety whilst he was in the care of First step & having a child with SEN this is a constant worry but we can honestly say we felt he was secure & well cared for.
It was wonderful to have this as peace of mind.
Jude attended weekly & as time went on the staff helped brilliantly in transitioning him to school.
We continue to support First Step as there is no other place like it and we are blessed that Jude was able to access it.
Liam - Age 12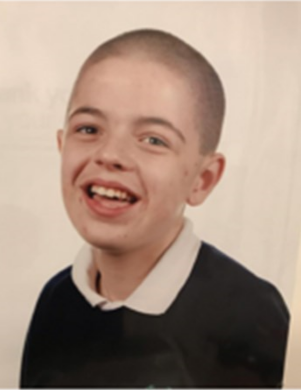 Attended First Step 2009 - 2010 with Autism
My son Liam has Autism with complex learning difficulties. He is 12 years old and is non verbal.
At the age of 2 when Liam started at First Step, it is true to say that as parents, my partner and I were in complete denial about his developmental delays and behaviours.
First Step supported us as a family through some really tough times of acceptance and understanding.
For Liam they provided an environment where he was not only safe and understood, but he could also learn and progress.
First Step journeyed with us through the diagnosis process, form filling and basically anything else that was thrown at us along the way.
They were our lifeline at such a crucial stage for Liam and our family.
This amazing charity will always be like family to us and being part of this family means that even though our children naturally move on to pastures new, we know that First Step's door is always open to us.
We will always be immensely grateful to them.
Maddison - Age 7½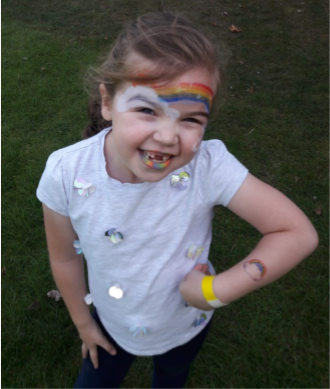 Attended First Step 2015 with Autism
Maddison started First Step 5 years ago and from the first moment we were greeted with warmth, compassion and understanding.
This was our first time as a family on the special needs pathway.
We had no idea how it worked or what help and support we could tap in too.
This is where First Step is incredible; not only did they support our daughter, they supported our whole family.
Whether that be sourcing the right therapies or something as simple as just being there to chat on the tough days.
When Maddison started she had no communication, struggled in social surroundings, and became distressed.
By the time she left she had gained confidence, verbal skills and was the bubbly and happy child we have now.
This is an absolute credit to the wonderful, experienced Early Years support workers.
We as a family can never thank them First Step enough for their guidance and support
Owen - Age 5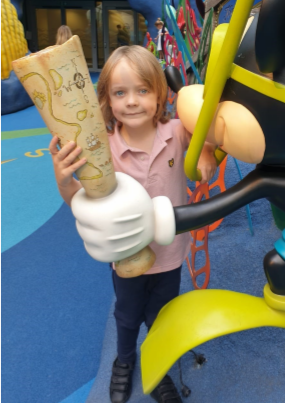 Attended First Step 2015 - 2017 with Global Developmental Delay
Owen had been in and out of hospital, was delayed in talking and walking and his growth was so slow he was being tested for Dwarfism Syndrome.
On the first day I was very worried and nervous.
Through tears, I chatted with Mark (CEO) and let him in on my fears I hadn't voiced before, and that started our journey of accepting our family would benefit from their help.
Our future soon became brighter.
We attended family sessions, then Owen attended the nursery.
Staff took their time with Owen. He came alive in their playroom, really taking notice and saying words for the first time.
He hit lots of milestones at First Step.
As Owen got the support he needed our lives became less scary and I grew in confidence too. I finally felt we could take Owen somewhere we fitted in.
We realise Owen will continue to face challenges as he gets older but our family definitely had the best start at First Step.
The Parent's Room was invaluable. I have made friends for life.
Reece - Age 5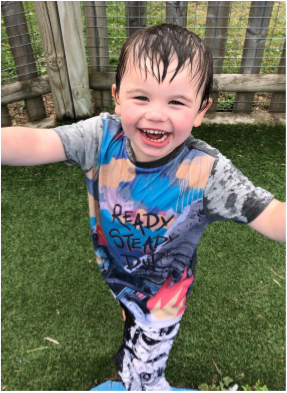 Attended First Step 2016 - 2017 with Autism
Reece started First Step 3 years ago, having already had the pleasure of using First Step when his sister attended.
We knew as a family that it was the perfect place for Reece to get the support he needed.
Reece is non-verbal and has very little understanding of the world around him. He has high sensory needs.
These include loud noises, groups of people. His oral sensory need is something we as a family struggled with.
The chewing and biting was something we found very challenging.
The amazing Early Years staff helped and supported us with finding the right aids to help him regulate this need.
When Reece finished his year at first step he was a calmer, happier little boy.
First Step supported our whole family.
Robyn - Age 3½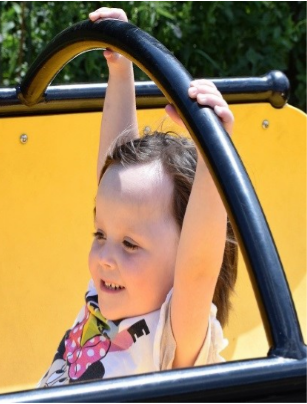 Attended First Step 2016 - to date with Triplication of Chromosome 22qi
Robyn struggles to swallow food & drink, she also has global learning delay which has affected her speech & language, mobility, mild hearing loss & severe reflux.
When we first had Robyn we felt very isolated.
At first we used to go to the family sessions which Robyn enjoyed with her older sister was also included.
Accessing First Step allowed us to meet other families so we felt among people that understood what we were going through.
At two years old Robyn started at the pre-school sessions & this has been amazing, she is developing really well.
She is well cared for, all her needs are meet & she really looks forward to coming.
The staff are amazing, a constant source of help & support and with their help we have learned Makaton (signs & symbols to help communication).
First Step run brilliant holiday sessions which Robyn & her sister can both attend.
Robyn loves the music & his sister loves the creative activities and we as parents appreciate the extra sessions as it keeps Robyn in her routine of going to First Step.
We always feel like we are going to a safe secure, place where all our family are welcome.